Cathedral
Imagine a cathedral almost a mile high, two miles deep, two miles wide. Remove the roof so sunlight and rain can pour in, plants and animals can thrive, streams will run down to the nearby ocean. Add a beach and waterfalls and fruit trees to attract people. Imagine a green cathedral reachable only after an 11-mile pilgrimage above steep drop-offs and through primeval forests, guarded by goats and a few intrepid hikers.
Welcome to Kalalau Valley.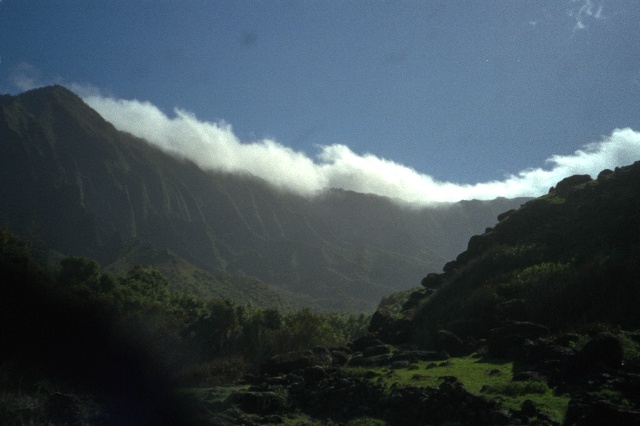 Kalalau was once home to up to 200 people. The agricultural terraces originally used in growing taro are overgrown with trees. Trails lead to waterfalls and pools. Passion fruit and Java plum grow in the campgrounds, and papaya, mango, and oranges grow in the forest. There is only one trail out of the valley. People have climbed the near-vertical cliffs in the back of the valley, but there is no trail. A waterfall serves as shower and water source. Toads hop around fearlessly at night, dragonflies don't get squished on car windshields. The stars shine very bright, and falling stars are plentiful. In the quiet, the only persistent sound is from the waves breaking on the beach and the wind blowing through the trees.
The state of Hawai'i limits stays at Kalalau campground to 5 nights.