Baobab near Queen's hospital, downtown Honolulu

This is supposed to be the oldest baobab in town, at least according to a sign in Foster Botanical Garden. It is not the biggest.

Queen's hospital is a block from the state capitol and from city hall, along Punchbowl street. It was founded by Queen Emma and King Kamehameha IV (you can see their picture here) way back in 1859. Both the hospital and the baobab are on Punchbowl street, named for Punchbowl hill (Puowaina), a volcanic crater whose inside somewhat resembles a punchbowl. The inside of the crater (not visible in these pictures) hosts the memorial cemetery of the pacific.

If you look closely at the second picture, you'll see signs for "H-1". Hawaii does not have any interstate highways (can you guess why? :-), but Oahu does have three highways belonging to the Interstate and Defense Highway System. These three highways are sensibly named H-1 (Kahala to Ewa), H-2 (Waipahu to Wahiawa), and H-3 (Aiea to Kaneohe). If you take H-1 west (Ewa-bound) from here, you'll be able to get to H-2 or H-3.

At the time of writing (2006), somebody has proposed building an inter-island ferry (beyond the ferry service already connecting Maui to Molokai and Lanai). Their marketing cleverly describes their service as "H-4".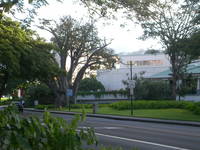 Saturday morning
This last picture was taken early on a Saturday morning, under very different traffic conditions than the afternoon pictures preceding it.
For those of you into geocaching, you'll find this tree near N21 18.510', W157 51.292',