Baobab in Foster Botanical garden, downtown Honolulu

This is probably the largest baobab in Honolulu -- I believe the one at UH is smaller.

Foster Botanical garden is on Vineyard boulevard, between Pali highway and the Nu'uanu stream, and bordered on the mountain side by the H-1 freeway. It is named for Captain Thomas and Mary Foster, who in their will left their villa to the city and county of Honolulu.

I went to Foster on the evening of July 15, 2006, for their "midsummer night's gleam" concert. The garden has a variety of astounding plants, including a huge kauri, and another earpod and kapok (the same plants as on Keeaumoku street). It also has a Bo tree, shown below. These pictures are of the Baobab:

One of these days I'll go back in the daytime and take better pictures... But the people do give a good idea of the scale.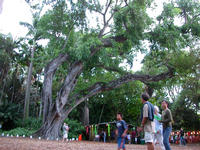 Bo tree
The Bo tree, above, has an interesting history. Supposedly it was grown from a cutting taken from a similar tree in Sri Lanka, which was supposedly grown from a cutting taken from the tree that the Buddha was sitting under when he was enlightened. It may not be a coincidence that there is a buddhist temple just outside the gates of the botanical garden.
For those of you into geocaching, you'll find this tree near N21 18.962', W157 51.479',